Due to the coronavirus outbreak, we are temporarily closed until further notice
If you have questions about TENNIS, please contact Matt Treblas or Brian Shoman
For FITNESS, contact Nikki Austin
For ACCOUNTS RECEIVABLE, contact Katie Treblas
For ACCOUNTS PAYABLE, contact Terri Treblas
Dear members,
We are temporarily closed until further notice,  per Governor DeWine's policy released March 16th. Because this policy is "until further notice," we are unsure whether our upcoming events, such as our 2 pickleball tournaments & our powerlifting championships, will be held. As of right now, we are not going to bill 4th quarter permanent court times until we know when we will reopen. Should anything regarding this policy change, we will notify all members immediately.
For more information regarding the coronavirus, you can visit the CDCs web page at https://www.cdc.gov/coronavirus/2019-nCoV/index.html
We understand that these are unfortunate and uncertain times, but we respect the judgment of Governor DeWine to temporarily halt all nonessential businesses until further notice. As a health club, we have a responsibility to put the safety and well-being of all members and staff alike at the forefront of our operations.
We will be back.
Until then, we wish you all the best,
Western Reserve Racquet & Fitness Club
WRRFC
---
(330)-653-3103
11013 Aurora-Hudson Road
Streetsboro, OH 44241
Fall, Winter, Spring Hours
---
Mon - Fri: 5:30 am - 10:00 pm
Sat - Sun:  7:00 am - 6:00 pm
Family-Owned Tennis and Fitness Club Since 1970
Welcome to Western Reserve Racquet and Fitness Club (WRRFC), northeast Ohio's premier tennis and fitness facility.
Located just minutes from Hudson, Aurora, Twinsburg, and Solon, we offer fitness, tennis, and pickleball memberships, as well as full club memberships.
But WRRFC is not your typical gym. Over 90,000 square feet of space is devoted to improving your total fitness, featuring the latest in exercise equipment, personal training, over 45 exciting group fitness classes taught by certified fitness professionals, small group fitness classes, three racquetball courts, eight pickleball courts, and 10 indoor and five outdoor tennis courts designed to keep you playing all year long.
Whether you want to lose weight, gain strength, improve your health, reduce stress, or learn a new sport, WRRFC's tennis instructors and fitness professionals are here to help you safely reach your health and fitness goals.
Stop in for a tour and receive a free 1-week pass. No appointment necessary, and no strings attached!
Monday 3/16
Sunrise discounted court rate 6:00 - 9:00 am for members
Fit Factory 8:00 - 9:00 am
FIT360 8:00 - 9:00 am, 9:30 - 10:30 am, & 5:30 - 6:30 pm
Cardio Tennis 10:30 - 11:30 am, 8:00 - 9:00 pm
Drill & Play Pickleball 11:30 - 1:00 pm
Learn to Play Pickleball 12:00 - 1:00 pm
Open Pickleball Play 1:00 - 3:00 pm
Junior Tennis Program: Orange & Green 4:30 - 5:30 pm
Junior Tennis Program: Green II 5:30 - 6:30 pm
Start / Re-Start Tennis 6:30 - 7:30 pm
Tennis Drill & Doubles 6:30 - 8:00 pm
Tuesday 3/17
Closed until further notice, per Gov. DeWine's policy (3/16)
Wednesday 3/18
Closed until further notice, per Gov. DeWine's policy (3/16)
Thursday 3/19
Closed until further notice, per Gov. DeWine's policy (3/16)
Friday 3/20
Closed until further notice, per Gov. DeWine's policy (3/16)
Saturday 3/21
Closed until further notice, per Gov. DeWine's policy (3/16)
Sunday 3/22
Closed until further notice, per Gov. DeWine's policy (3/16)
3/21                                          'March Mayhem' Pickleball Championships. Register by phone in advance
4/4                                            'The Battle' Powerlifting Championships
4/11                                          'Battle of the Paddle' Pickleball Championships. Register by phone in advance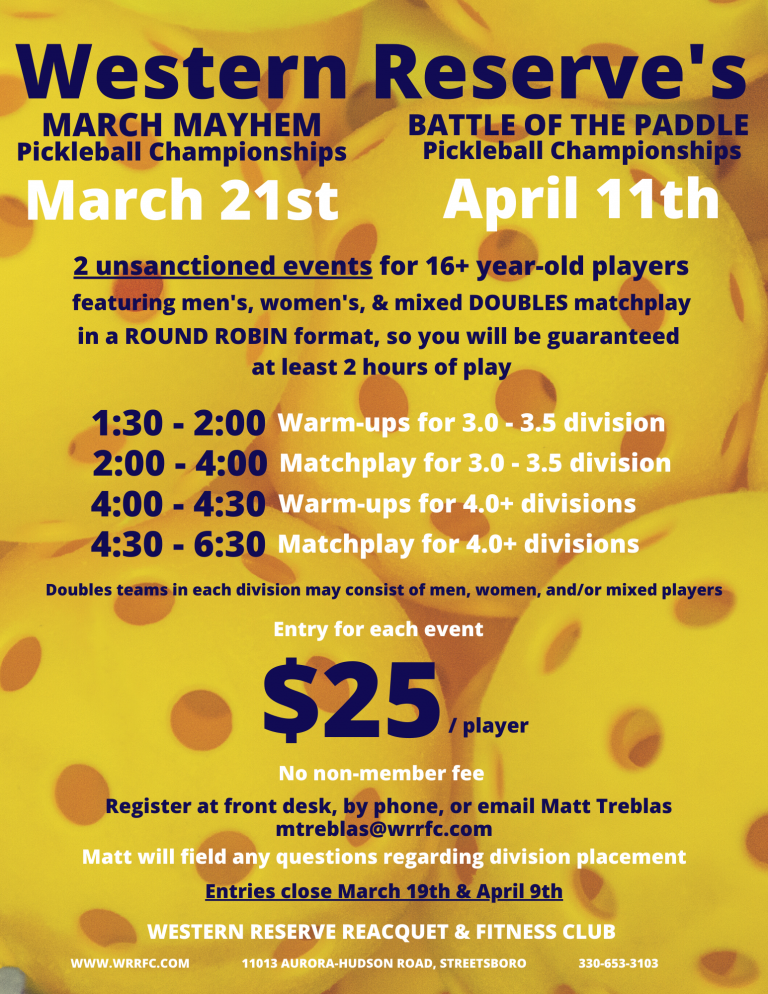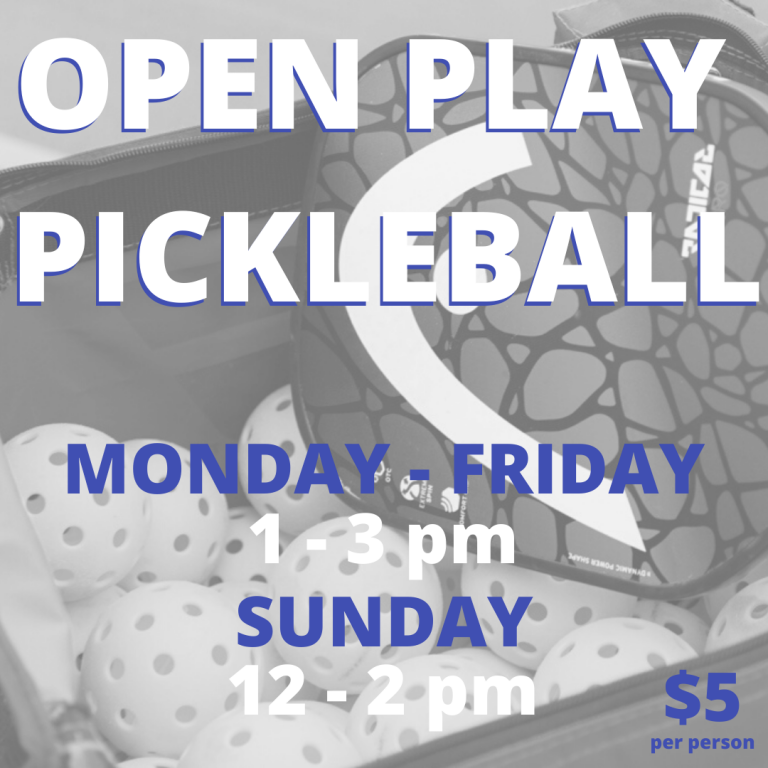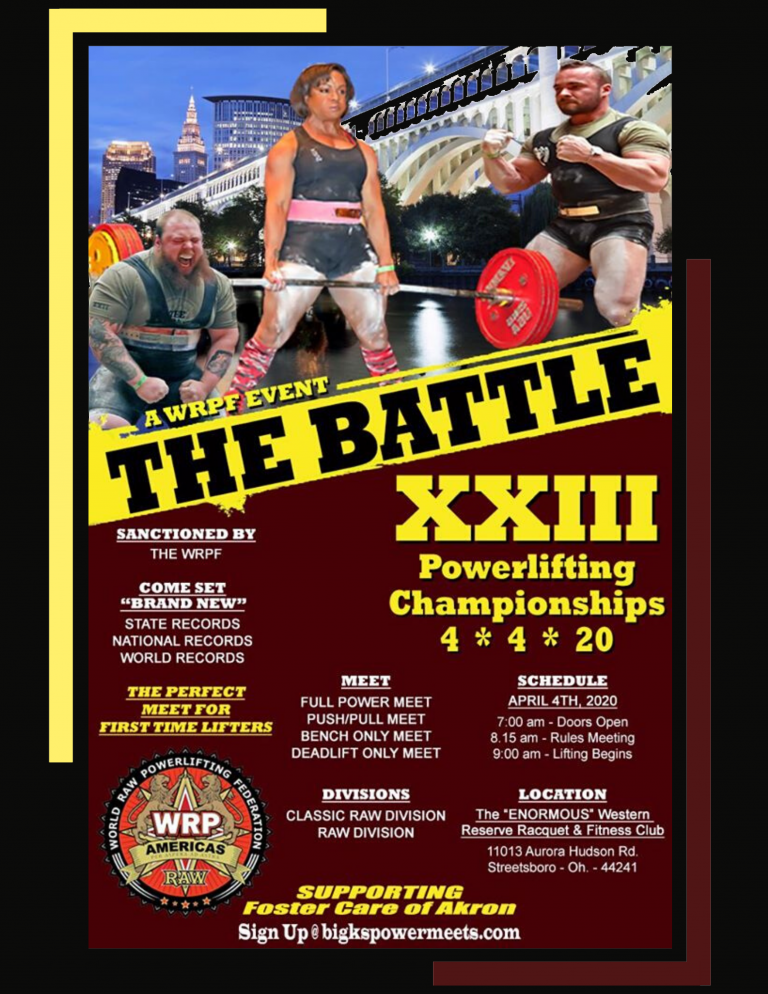 Western Reserve Racquet & Fitness Club
330.653.3103