WRRFC
---
(330)-653-3103
11013 Aurora-Hudson Road
Streetsboro, OH 44241
Facility Hours
---
*Winter hours Labor Day through Memorial Day*
Mon - Thurs
5:30 am - 10 pm
Fri
5:30 am - 9 pm
Sat - Sun
 7 am - 6 pm
*Summer hours Memorial Day weekend through Labor Day*
Mon - Thurs
5:30 am - 10 pm
Fri
5:30 am - 9 pm
Sat - Sun
 7 am - 2 pm

Family-Owned Tennis and Fitness Club Since 1970
Welcome to Western Reserve Racquet and Fitness Club (WRRFC), northeast Ohio's premier tennis and fitness facility.
Located just minutes from Hudson, Aurora, Twinsburg, and Solon, we offer fitness, tennis, and pickleball memberships, as well as full club memberships.
But WRRFC is not your typical gym. Over 90,000 square feet of space is devoted to improving your total fitness, featuring the latest in exercise equipment, personal training, over 45 exciting group fitness classes taught by certified fitness professionals, small group fitness classes, three racquetball courts, eight pickleball courts, and 10 indoor and five outdoor tennis courts designed to keep you playing all year long.
Whether you want to lose weight, gain strength, improve your health, reduce stress, or learn a new sport, WRRFC's tennis instructors and fitness professionals are here to help you safely reach your health and fitness goals.
Stop in for a tour and receive a free 1-week pass. No appointment necessary, and no strings attached!
We're Taking Extra Steps to Stay Healthy
As we continue to carefully follow CDC guidelines, it is our responsibility to put the safety and well-being of our members and staff at the forefront of our operations.
Stay home if you are sick or do not feel well - refer to CDC guidelines
All Members, Staff, Guests & Others are reminded to wash their hands regularly and/or use hand sanitizer
The club will perform sanitizing and cleaning procedures in alignment with State and Local requirements
Staff members will perform sanitizing procedures within their respective work areas throughout the day and perform regular hand-washing and/or hand sanitizing
We look forward to responsibly serving our community in fitness and good health!
Monday 9/18
Fit Factory 8 - 9 am REGISTER
Barre Fight 9:15-10:15 am
2.5 Adult Tennis Drill 10:30 am - 12 pm REGISTER
Adult Guided Pickleball Strategy Drill (Levels 2.5 - 3.25) 10:30 am - 12 pm REGISTER
Senior Fit 10:45-11:30 am
Senior Fit 11:45 am-12:30 pm
Adult Guided Pickleball Strategy Drill (Levels 3.25 - 4.0) 12 - 1:30 pm REGISTER
Pickleball Open Play 12:30 - 2:30 pm
Beginner Baseliners Youth Tennis 4 - 5 pm
Pro/Elite Youth Tennis 4:30 - 6:30 pm
Intermediate/Advanced Youth Tennis 5 - 6:30 pm
Barre 5:30-6:15 pm
Drill & Doubles Adult Tennis 6:30 - 8 pm
Tuesday 9/19
Fall Group Fitness Schedule begins
Pilates 8:50-9:40 am
Yoga 9:45-10:40 am
Drill & Doubles Adult Tennis 10 - 11:30 am
3.5 Tennis Drill 11:30 am -1 pm REGISTER
Pickleball Open Play 12 - 2 pm
Slow & Steady Yoga 12:15-1 pm
Pro/Elite Youth Tennis 4:30 - 6:30 pm
Cardio & Conditioning 5:30-6:15 pm
Start/Restart Adult Tennis 6:30 - 7:30 pm
DUPR Nights (Levels 4.0-4.5+) 8 - 10 pm REGISTER
Wednesday 9/20
Strength, Core & More 6:15-7 am
Fit Factory 8 - 9 am REGISTER
Adult Guided Pickleball Strategy Drill (Levels 4.0+) 9 10:30 am REGISTER
Cardio & Conditioning 9:15-10:15 am
Pickleball Open Play 10 am - 12 pm
3.0 Tennis Drill 10:30 am - 12pm REGISTER
Adult Learn to Play Pickleball 10:30 am - 12 pm REGISTER
Senior Fit 10:45-11:30 am
Senior Fit 11:45 am - 12:30 pm
Adult Guided Pickleball Strategy Drill (Levels 2.5-3.25) 12 - 1:30 pm REGISTER
4.0 Tennis Drill 12 - 1:30 pm call Rich Mostardi to register
Tiny Tots Youth Tennis 4:30 - 5 pm
Beginner Baseliners Youth Tennis 4:30 - 5:30 pm
Junior Legacy Training 4:30 - 5:30 pm REGISTER
Spin 5:30 - 6:15 pm
Intermediate/Advanced Youth Tennis 5:30 - 7 pm
Shake It Off 6:30 - 7:15 pm
Pickleball Open Play 7 - 9 pm
DUPR Nights (Levels 3.0-3.99) 7 - 9 pm REGISTER
Upcoming Events & Important Dates
2023 Fall 1 Session August 21st - October 22nd
1st Quarter PCT August 21st - October 22nd
9/15 Fall USTA Begins
9/15 Interclub Begins
9/16 Fall Kickoff DUPR Pickleball Tournament REGISTER
9/22 Dinks & Drinks REGISTER
10/20 Dinks & Drinks REGISTER
10/21 Level 5 Open Boy's 18's Tennis Tournament REGISTER by 10/15
10/28 Halloween DUPR Tournament REGISTER
11/17 Dinks & Drinks REGISTER
12/8 Dinks & Drinks REGISTER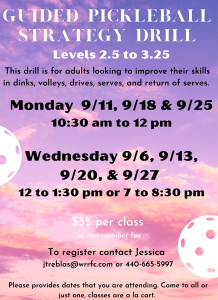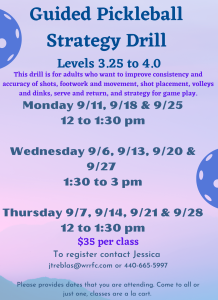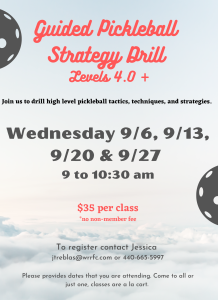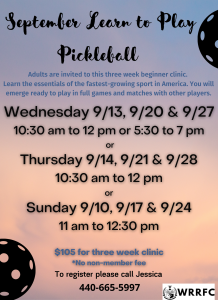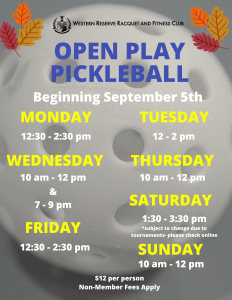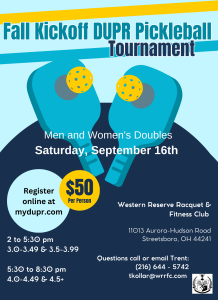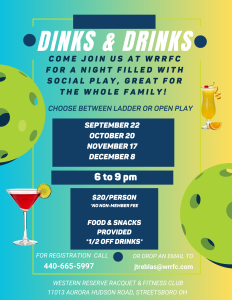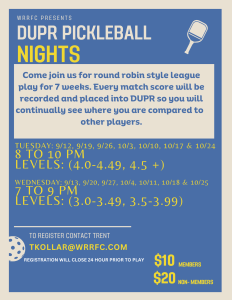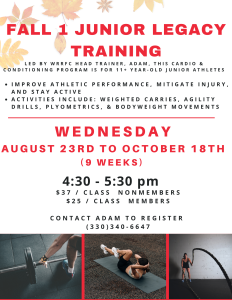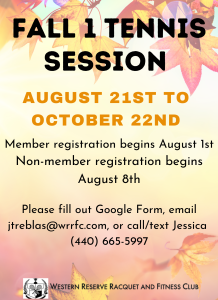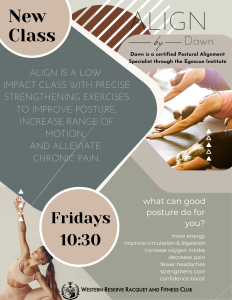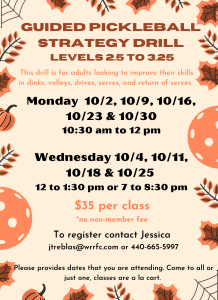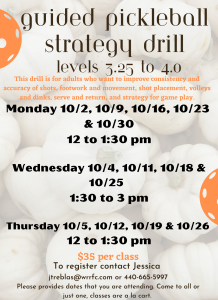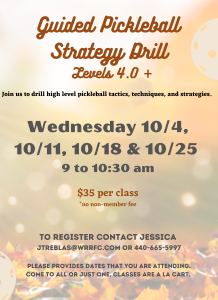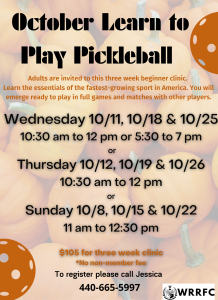 Western Reserve Racquet & Fitness Club
330.653.3103