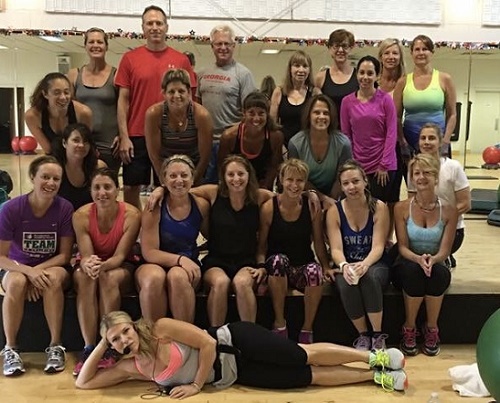 Group Fitness Class, H.I.I.T. with Nikki
Group fitness classes are offered for all fitness levels and abilities.
Our objective is to help you meet your personal fitness goals with enthusiasm, integrity, and respect. Because safety is a top priority, each fitness class is led by a certified instructor who also has CPR training. Please inform your instructor of any health conditions or concerns before class starts.
Please stop by the front desk or the 2nd floor desk for a printed group schedule by class or by days.
We're Taking Extra Steps to Stay Healthy This Summer
Registration/Arrival/Check-in/Departure
Group fitness classes will be capped at a maximum of 15 participants per class until further notice. To ensure your spot in a class, you should sign up for a class at front desk or by phone 24 hours prior to the class. There will be a NO SHOW FEE of $10.00 to your account.
Each member must scan in at front desk. The instructor for your class will sign you in and out of the class you are attending.
You will be advised of what door(s) to enter and exit
Fitness Class/Fitness Room Protocols
Programming will be arranged to provide social distancing – including instructor directions, signage, etc.
Equipment will be sanitized between classes and during afternoon closure
Participants are to bring their own water bottles, towels, mats, etc.
Spin bikes are to be set-up before classes and stored after classes by instructors only
The use of fans is prohibited until further notice
Participant Expectations
Read and familiarize oneself with overall club protocols
Maintain social distancing throughout the club at all times
Wipe down personally used equipment with sanitizing products before and after use
Wash or sanitize hands before and after classes
Wait in your car or outside before class, maintaining social distancing – no congregating please
Reference:  Ohio Department of Health/Responsible RestartOhio
Updated:  May 26, 2020
Below is an alphabetical list of all of the Group Fitness classes we provide
The day, time, instructor, and intensity level for each class is listed
Click the button on the right if you would like to view the schedule by day
Group Fitness Intensity Levels:
Low
 | Medium

 | High 


Barre
A full body strength / core class using Pilates, balls, bands, & light weights
Friday |  8:15 - 9:00 am  |  Jan

Barre-Fight
30 minutes of Barre followed by 30 minutes of kickboxing
Monday  |  9:15 - 10:15 am  |  Jan

  Buti Yoga
A calorie-scorching workout that infuses power yoga with cardio-intensive tribal dance and body sculpting movements
Monday  |  5:30 - 6:15 pm  |  Jessica


 Cardio & Conditioning
Cross training combining cardio, weights, bands, tubing with active recovery intervals
Tuesday  |  5:30 - 6:30 pm  |  Jan
Wednesday  |  9:15 - 10:15 am  |  Jan
Friday  |  9:15 - 10:15 am  |  Jan

 H.I.I.T.
High Intensity Interval Training - intense bursts of cardio and muscular endurance followed by short recovery periods
Wednesday  |  5:45 - 6:20 pm  |  Merideth
Mat Pilates
Strengthening and lengthening low impact movements to improve flexibility and strengthen core muscles
Wednesday  |  5:00 - 5:40 pm  |  Merideth
Pilates
Low impact movements to improve flexibility and strengthen core muscles
Saturday  |  10:00 - 10:45 am  |  Merideth
 Senior Fit
A class to benefit the older population with balance, strength, posture, and core training
Monday  |  10:45 - 11:30 am  |  Jan
Monday  |  11:45 am - 12:30 pm  |  Jan 
Wednesday  |  10:45 - 11:30 am  |  Jan
Wednesday  |  11:45 am - 12:30 pm  |  Jan
 Silver Sneakers
A class designed to improve agility, balance, coordination and activities for daily living skills
Thursday  |  11:15 am - 12:00 pm  |  Jan
 Slow & Steady Yoga
For new students who wish to ease their way into yoga. Appropriate for longer-term students looking for a soothing, mellow-speed practice
Tuesday  |  12:15 - 1:00 pm  |  Paul
Friday  |  12:15 - 1:00 pm  |  Paul

 Spinning
A stationary cycling class adaptable to all fitness levels
Monday  |  6:30 - 7:15 pm  |  Greg
Tuesday | 6:15 - 7:00 am | Jeff
Tuesday  |  9:15 - 10:00 am  |  Maryann
Thursday  |  6:15 - 7:00 am  |  Jeff
Thursday  |  9:15 - 10:00 am  |  Maryann
Saturday  |  7:30 - 8:30 am  |  Jeff

 Yoga
Unite mind and body with this class which focuses on improving body alignment, flexibility, and strength
Thursday  |  10:10 - 11:00 am  |  Beth
Friday  |  5:30 - 6:30 pm  |  Paul
Sunday  |  10:00 - 11:00 am  |  Paul

 Zumba
An energetic mix of Latin dance moves designed to get you movin' & burn up those calories
Tuesday  |  10:30 - 11:15 am  |  Stacey
Wednesday  |  6:30 - 7:15 pm  |  Stacey
Thursday  |  10:10 - 11:00 am  |  Beth
Friday  |  5:30 - 6:30 pm  |  Paul
Sunday  |  10:00 - 11:00 am  |  Paul
*To adhere to social distancing guidelines, strict limit of 15 people per class*
*
Red-colored classes

indicate a high-demand class that you must pre-register for by contacting JAN via email, call, or text*
JAN  |  janicegutowski@gmail.com  |  216 - 570 - 6167
*24-hour cancellation policy for pre-registered classes*
$10 fee for cancellation less than 24-hours before class*
Western Reserve Racquet & Fitness Club
330.653.3103