Tennis Courts & Amenities
We are proud to be one of Northeast Ohio's premier indoor and outdoor tennis clubs. Our tennis programs extend from beginner kids tennis classes to advanced adult tennis lessons. Our indoor tennis facility has 10 indoor tennis courts with indirect lighting, and 5 outdoor Har-Tru green clay courts. Our outdoor tennis area has a beautiful deck space, and the courts are enclosed within the picturesque Tinkers Creek State Nature Preserve.
We're Taking Extra Steps to Stay Healthy
Tennis Programming Formats
Tennis programming includes casual play, permanent court time, private and small group lessons and drills, match play and other formats that maintain social distancing
Social Distancing
All tennis programming and interaction is designed to maintain 6 foot social distancing
Parents/guardians/families/spectators are allowed provided they maintain proper social distancing
Reservation Process
Tennis reservations will be made by telephone, email, text, etc. to minimize in-person interaction
All reservations much be paid by member account or credit card – no cash
Arrival / Check-in
Players should arrive no earlier than 10 mins prior to their reservation
Players should check-in at the front desk while maintaining social distancing with others
Players should wait to be called to their court or after the previous group has left the court
On-Court
Instructors will remind players of tennis protocols
Tennis instructors will practice regular hand washing/sanitizing
Non-essential equipment has been removed from court areas
Tennis Pros will have their own assigned baskets and balls
Tennis instructional equipment will be cleaned after use
Demo racquets are not presently available - their usage and handling protocols are being evaluated
After Play
Players will be asked to leave the court before the next tennis player(s) arrive
Players will be asked to not congregate in the club
Parents/guardians/families/spectators are allowed provided they maintain proper social distancing
Players
Players should bring their own sports drinks/water – they are also available for purchase at the front desk
Players should limit switching ends of the court – any switching should be in a clockwise direction
Players should leave their tennis gear on opposite sides of the court and at least 6 feet from others
Players should keep towels and other personal items in their bags between use during play
Players should not touch others equipment, gear, etc.
Practice good sportsmanship – replace handshakes, high-fives, etc., with the wave of a hand or racquet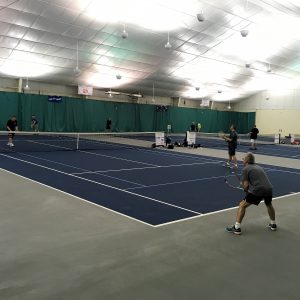 Adult Tennis
We offer a variety of social and competitive adult tennis programs. Placed in groups by skill level, players can focus on improving their game in lessons or on teams alongside players of similar ability. Whether you are starting from scratch or looking to enhance your play, we have a tennis program for you!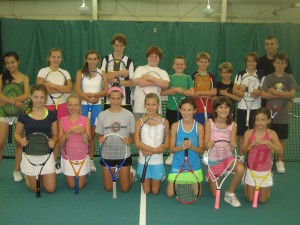 Youth Tennis
We have an outstanding youth tennis program. From beginners to highly recruited high school players, the tennis opportunities we provide for your child are unmatched. Our enthusiastic and high energy staff focuses on teaching proper fundamentals of the game in a fun-filled and enjoyable environment!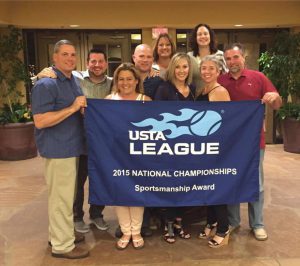 USTA Tennis Leagues
We have more than 75 teams that participate in USTA Leagues, where tennis players compete against other recreational tennis clubs in match play throughout Northeast Ohio. Play is based on the National Tennis Rating Program to ensure you compete against players with similar ability – from beginners to more advanced players.
Teams have an opportunity to advance from local play to USTA League National Championship events. Initially, a player without a rating can rate themselves at levels beginning at 2.5 to 5.0.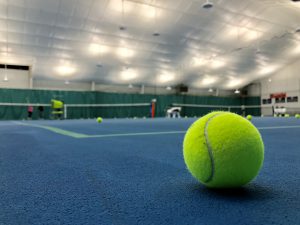 We offer a wide array of:
Ladies Round Robins
Men's Tournaments
Tennis & Pickleball Friday Night Socials
Junior Team Tennis
Junior Match Play Shootouts
Midwest and National Youth Tournaments
We also host five Midwest multi-level ranking tournaments.
For all questions regarding tournament & event registration, contact Matt Treblas
Western Reserve Racquet & Fitness Club
330.653.3103