At WRRFC, you'll find all of the latest cardio and strength-training equipment, and more importantly, an energetic, supportive team committed to helping you achieve your individual fitness goals. Our certified trainers create personalized fitness programs that help our members realize their full potential.
With so many options to choose from, you're certain to find the fitness classes and training that's right for you at WRRFC. Whether you enjoy the camaraderie of working out in a large group, or more personalized attention that comes with small group training and personal training, WRRFC offers a variety of fitness options all under the guidance of certified fitness professionals. Download our latest fitness schedule.
 Group Fitness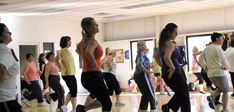 Group Fitness classes at Western Reserve Racquet & Fitness Club are offered for all fitness levels and abilities.  At our health club, the Group Fitness schedule offers classes which includeZumba, Yoga, Silver Sneakers, Spinning, Strength and Conditioning, Power Pump and Step classes seven days a week.
Each fitness class is led by a certified instructor who also has CPR training. Each class offers different benefits, so whether you are trying to shape your core, build muscle or work on cardiovascular endurance or flexibility, there is a class suited to you. A safe, motivating environment is what you will experience in any class you attend. Modifications will always be provided for any fitness level. Please inform your instructor of any health conditions or concerns. Our objective is to help you meet your personal fitness goals with enthusiasm, integrity and respect.
PERSONAL TRAINING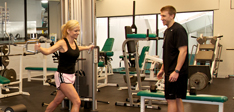 Personal training offers the highest level of fitness training for individuals who want one- on-one training.  With personal training, there is a concentrated focus on the trainee during the entire 30 to 60 minute session.
Personal training provides great flexibility for anyone who has a busy schedule.  Schedule the time YOU want to train!
Offering a detailed progression of exercise intensity, volume and frequency, personal training sessions are focused on your specific needs and goals rather than those in a group class setting.
Our experienced and knowledgeable Personal Trainers will use a wide range of equipment and training methods to help clients meet individual goals.
Our Personal Trainers can help you:
Recover from an injury
Get your diet back on track and hold you accountable to ensure maximum results
Stay engaged and committed to have the consistency to make permanent lifestyle changes
Lose body fat and/or gain muscle mass
Gain strength and speed, increase agility or improve an athlete's overall conditioning level.
SMALL GROUP TRAINING – FIT 360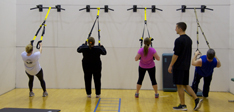 Small Group Fitness Training is the closest thing to personal training at a fraction of the cost!  It offers great value for personalized attention in a group of six or less participants and uses all the latest fitness equipment to keep working out fresh and fun.
At Western Reserve Racquet & Fitness Club, we offer a private room for our small group exercise classes to provide a motivating environment.  If you're looking for results, consistency and accountability, FIT 360 is a great choice!  Plus, it's a wonderful setting to meet and make new friends while doing something fun and healthy.
FIT 360 classes are taught by our certified fitness professionals almost every day of the week,  with convenient morning and evening times.
&nbsp