Fitness Center
We have the latest cardio and strength-training equipment. In addition, we have an energetic, supportive team committed to helping you achieve your individual fitness goals. Our certified trainers create personalized fitness programs that help our members realize their full potential.
With so many options to choose from, you're certain to find the fitness program that's right for you. Whether you enjoy the camaraderie of working out in a large group or more personalized attention that comes with small group training and personal training, we offer a variety of fitness options all under the guidance of certified fitness professionals.
Lastly, we offer an indoor track for walking or running which is useful during inclement weather or dark evenings. 
Group Fitness
Group Fitness classes at Western Reserve Racquet & Fitness Club are offered for all fitness levels and abilities.  The Group Fitness schedule offers 20 different types of classes, 7 days a week. 
Each fitness class is led by a certified instructor who also has CPR training. Our objective is to help meet your personal fitness goals with enthusiasm, integrity and respect.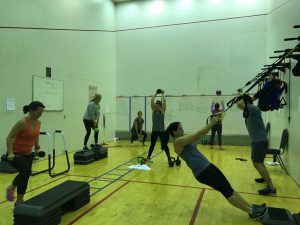 Small Group Classes
Small Group Fitness Training is a great value for personalized attention in a group of six or less participants.
We offer a private room for our small group exercise training to provide a motivating environment. FIT 360 classes are taught by our certified fitness professionals almost every day of the week,  with convenient morning and evening times.
Fit Factory is held on the tennis courts and provides a new twist on small group training.
Check out our weekly calendar for class times.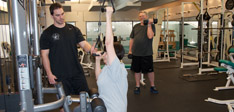 Personal Training
Personal training offers the highest level of fitness training for individuals who want one-on-one training.  With personal training, there is a concentrated focus on the trainee during the 30 or 60 minute session.
Our experienced and knowledgeable Personal Trainers use a wide range of equipment and training methods to help clients meet their individual goals.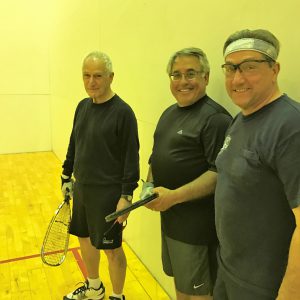 Racquetball and Pickleball
We have three regulation racquetball courts. Racquetball is included in our fitness membership. Courts may be reserved up to one week in advance.
Racquetball provides an excellent cardiovascular workout. In one hour a player may expend 600 to 1000 calories! Racquetball provides a good upper and lower body workout by utilizing both the legs to run the court and the arms and torso to swing the racquet. This sport can really give a fitness enthusiast a new and different challenge.
Racquetball racquets and racquetballs are available for purchase at the club.  We also provide loaner racquetball racquets for those new to the sport.
We regularly hold racquetball mixers for players to get to know one another and also give new players a chance to mingle with more seasoned players.
We offer pickleball, one of the fastest growing sports in America.  Pickleball borrows from badminton in its rules and playing field.  Pickleball is included in all club memberships and court fees do apply. Courts may be reserved up to one week in advance. 
Fitness Director
Nikki Austin
AFAA Certified
Manages and coaches Small Group Training
Large group HIIT instructor
Personal trainer for 5+ years
Personally experienced, over 80 pound weight loss
Contact Nikki at naustin@wrrfc.com
Group Fitness Director
 Lynn Duffy
Pioneer in women's fitness and health and fitness professional since 1971
Nationally certified in AFAA
Nationally certified in Group Fitness Management
Mad Dog Spinning certified
Various certifications in IDEA, ACE, Yoga, Pilates, TRX, children's programming, swimming and BOSU training
Contact Lynn at lduffy@wrrfc.com
Head Personal Trainer
Adam Whitlach
Bachelor's of Arts and Science from Kent State University
Certified personal trainer with AFAA
Taekwondo black belt
Purple belt in Brazilian Jiu Jitsu
Has competed in bodybuilding, power-lifting and strongman
Contact Adam at awhitlach@wrrfc.com
Personal Trainer & Tennis Instructor
Matt Treblas
National Strength and Conditioning Association Certified Personal Trainer
Former college level tennis player
TRX Suspension trainer
3rd Generation family member
Contact Matt at mtreblas@wrrfc.com
Personal Trainer
 Jan Gutowski
AFAA certified Personal Trainer
Silver Sneakers specialist
Competitive runner
Large and small group instructor
Contact Jan at jgutowski@wrrfc.com
Personal Trainer
Adam Rubin
ACSM certified Personal Trainer
Bachelor's of Exercise Physiology from Kent State University
Specializes in strength training, body re-composition and sport specific performance
Western Reserve Racquet & Fitness Club
330.653.3103